Binoculars - finding the right pair
How the right binoculars improve your outdoor experience

The UK has beautiful scenery and abundant wildlife whether you are in your own backyard, a nearby park, or on holiday, your wildlife viewing experience will be significantly enhanced when you see further and more clearly using the right pair of binoculars. Selecting a pair of binoculars may be challenging because there are literally hundreds of choices with different capabilities, but it need not be overwhelming. Begin by thinking about how you want to use your binoculars and use the answers to drive your decision toward getting the right pair for your needs.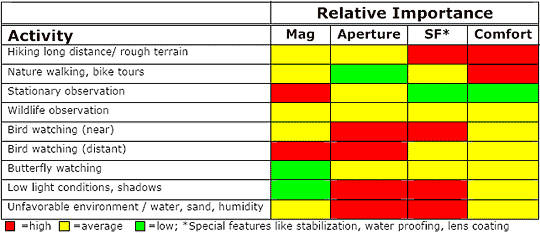 Magnification or power is the size difference between the binocular image of an object and that object seen with the naked eye. Most binoculars magnify between 7X and 10X; naturalists tend to prefer 7X or 8X for viewing. However, if you will be looking long distances for high flying birds for example, you may prefer greater power. Be aware though that with greater magnification, your field of view becomes smaller making it more challenging to find and hold the object in view.

Aperture is the amount of light passing through the lens - the higher the number, the more light that gets through. Binocular specifications usually have two numbers, e.g. 7x35 or 8x42. The first number is the magnification and the second number is the aperture. Large apertures work more effectively in low light conditions like dawn, dusk, or in deep shade. On the down side, binoculars with higher aperture values are usually heavier.

Comfort: If you plan on carrying your binoculars while walking long distances or over rough terrain, weight is a significant consideration. Binoculars that are too heavy may end up being little used. You can lower the total weight by choosing compact binoculars. However, their smaller size also means a smaller field of view and more difficulty in finding your subject. Compact binoculars are also more difficult to hold steady. With standard binoculars be sure to select a broad carrying strap that will help distribute the weight across your back and neck. Choose binoculars with eye cups (the piece that fits against your eye when viewing) that are soft and that accommodate glasses, if you wear them. This is personal preference and you need to try out the glasses before purchasing.

Cost: In general, quality and options correspond to cost. Low cost binoculars are made with less precision and quality. They are priced around £100. High end binoculars can cost upwards of £1000 and they will have features like stabilization, better lenses, prisms, and optical coatings.

The best binoculars for you are the ones that meet your needs and activities. Selecting the right binoculars will ensure that you have a companion that enhances your outdoor experience and will be hard to put down.