Wildlife Gifts and Toys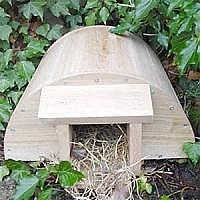 Wildlife Gifts


If you're looking for something different to give on a birthday, Christmas or any other occasion, then giving a wildlife themed present is always a good idea, especially for the person who has everything.

There are many different types of gift, but the decision is made easier if the person you're shopping for has a garden. If there's a garden then it opens up a whole realm of gift ideas, particularly if the garden has access for animals such as hedgehogs, squirrels and of course birds.

Bird feeders
Bird feeders are available in a great many sizes, from those that hang from a bird table or washing line to large wall mounted feeders, and even some edible ones where the birds can peck away at every last bit. A new development are the addition of cameras in the feeders that connect to your pc, so you can film the birds up close without disturbing them.

Nest boxes
Nest boxes are another great gift, ideally placed on the side of a house away from predators; you don't even need a garden so long as the box is securely placed. There's nothing better than to know a family of black birds have moved in and are brooding over a new generation in something you've provided for them.
Again, nest boxes often come with cameras for those looking to spend a little extra cash, these provide a great glimpse of the bird youth of tomorrow emerging into the world, all without leaving your PC.

Hedgehog Houses
If you've got a garden with possible access for hedgehogs, then a craftily placed hedgehog house can provide a home for what are becoming increasingly rare creatures. Hedgehogs are under threat from a all sides, so providing them a safe home in your back garden is a great contribution. Make sure they're well placed in a shady spot with plenty of cover and away from troublesome cats who might drive a hedgehog off if they're disturbed too readily.

Soft Toys
For those young at heart, or just soft, a cuddly toy is a great gift, especially now that you can get cuddly toys of just about any animal that walks the earth. A soft toy hedgehog is a perfect complement to that hedgehog house you just purchased, just make sure you choose a fair trade supplier.