Wildlife that can be seen through the British winter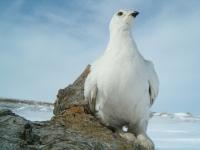 Whilst Britain is hunkering down beside the fires, in centrally heated homes, sheltering from the wind, rain, cold and darkness that makes living in this North Atlantic island so much fun during winter, the wildlife population has no such luck. They have two options, either put up with it, or head south to warmer climes. The second option is only useful to the wildlife of the aquatic or winged variety so much of the rest has to cope with 4-5 months worth of gloom.

One of the problems with winter is that many of Britain's native animals give it up as a bad job as soon as November arrives. They coil up below a nice rock or in a snuggle into a cozy burrow and sit it out until spring, only occasionally venturing out when their stomachs rumble or nature calls.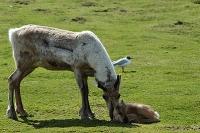 A Scottish reindeer and her calf
All however is not lost for the intrepid wildlife watcher as some very interesting creatures are still on display through the winter, some such as Berwick's Swan which migrates here in quite large numbers from the Arctic regions of Russia. Others such as the porpoise spend all year doing what they do, it just takes that bit more effort to get out and see them.


Here at wildlife Britain we've compiled a list of some interesting migratory animals you can see during the winter, where you can see them and at what time of year. Thus ensuring there is every opportunity to get out of self induced hibernation and step out into the wild.
Name

Time of Year

Where

Notes

Berwick's Swan
(Cygnus columbianus)

Welney near Peterborough http://www.wwt.org.uk/visit/welney/

Migrating from Arctic Russia. Smallest of the three British Swans.

Redwing
(Turdus iliacus)

October-April

Flamborough Head, Yorkshire

Migrates from forests and tundra of Northern Europe and Asia.

Reindeer
(Rangifer tarandus)

All Year

Cairngorms National Park

Reindeer were re-introduced into Scotland in the 1950's after being there extinct for 100's of years.

Mountain Hare
(Lepus timidus)

All Year but particularly good to see in winter

High ground and moors of Scotland, some in the Peak District and

Blueish Brown colour in summer but turns White or nearly white in winter. A photographers dream if spotted on open snow in the highlands.

Porpoise
(Phocoena phocoena)

March-November for better chance of sightings but can be seen all year

Around much of the coast but a good spot is Ramsey Sound off St Davids in Pembrokeshire.

Smallest of the cetaceans, often seen feeding in circles, following schools of small fish with the tides. Can be accompanied by Gannets watching from above.

Peregrine Falcon
(Falco peregrinus)

All year round

Symonds Yat in Gloucestershire

Magnificent bird of prey, recovering numbers in recent years helped by better awareness and protection. Feeds on a range of birds and mammals such as rock doves and rabbits. They strike prey at great speed from above.
If you're looking for that winter gift for someone special at Christmas, check out our wildlife gifts page - click here.